Board Meeting at central office September 14, 2017
Posted on September 13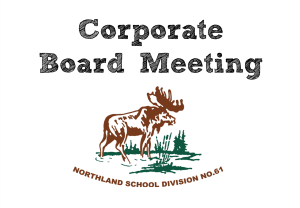 We are hosting our Corporate Board Meeting at the central office tomorrow (Thursday, September 14th)! The public meeting will begin at 10:00 a.m. Here are some Action Items being brought to Board: 
Education Quarterly Report
Locally Developed Courses
Transfer of Teacherages to Paddle Prairie Metis Settlement
Policy 2, Appendix A - Board Annual Work Plan
Policy 2, Appendix B - Facilitates Board Self Evaluation Process
Policy 2, Appendix C - Board Performance Assessment Guide
Policy 3, Appendix A - Services, Materials, and Equipment to Trustees
Policy 4, Appendix A - Trustee Code of Conduct Sanctions
Policy 7, Appendix A - Schedule of Rates
Policy 16 - Recruitment and Selection for Personnel
Policy 20 - Teacher Housing (Housekeeping)
Policy 4 - Trustee Code of Conduct
Official Trustee Report
Superintendent's Report
Staff Update
Communications Plan
Click here to view the Board Agenda
The public is welcome to attend starting at 10:00 a.m. at the central office in Peace River. Click here for directions. If you're unable to join us in person, WATCH our LIVESTREAM!