The APPLE Schools Foundation receive provincial award at ASBA Fall General Meeting
Posted on November 19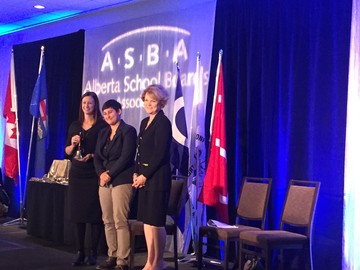 A friend of Northland School Division No.61 (NSD) received provincial recognition at the Alberta School Boards Association (ASBA) Fall General Meeting awards night. On November 19, 2017, The APPLE Schools Foundation was presented the ASBA 2017 Friends of Education Award, which is presented annually to organizations that have demonstrated a commitment to the improvement of education for Alberta's students. The APPLE Schools Foundation was nominated by NSD for this award.
 "I am honoured to receive this award on behalf of the project," said Jenn Flynn, APPLE Schools Executive Director. "NSD has been an integral partner to APPLE Schools since 2011. The school division is committed to helping us fulfill our vision of healthy kids in healthy schools and we have already seen many promising, healthy changes in the school communities. We look forward to many years of inspiring communities to lead their journeys to better health."
"We are thrilled to see The APPLE Schools Foundation receive provincial recognition," said Gord Atkinson, Superintendent of Schools. "They help us facilitate activities and communicate the importance of healthy eating, physical activity and mental health. As a result, our students, parents and community members are more aware of their health and how it impacts their learning and lives."
The APPLE Schools Foundation is an innovative school-focused health promotion initiative that improves the lives of more than 19,000 students annually in 63 schools across northern Alberta. Seven of the 63 APPLE Schools are from Northland School Division http://www.appleschools.ca/schools. Each school is provided with a School Health Facilitator (SHF) trained in healthy eating, physical activity, and mental health. The SHF works with students, parents, school staff, and community members to develop a school action plan to meet the specific needs of their school. School action plans include activities led by students and are designed to make healthy living fun and engaging.