Peerless Lake School celebrate "Class of 2017" graduates
Posted on June 13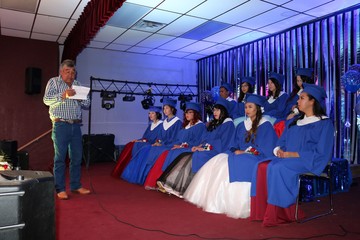 The Peerless Lake community was in celebration mode on June 10th! Students, staff, parents, and community members gathered to celebrate Peerless Lake School's "Class of 2017" at the beautifully decorated Peerless Lake Community Hall. The ceremony started with an opening prayer by Donna Yellowknee followed by the grand march which felt like Peerless Lake's version of the red carpet. Students marched into the hall to a music concert like atmosphere while wearing graduation dresses or suit alongside their escorts.
After receiving a blessing from Donna Yellowknee, the 10 students made their way down the sparkling pathway towards the stage once again; this time wearing their graduation gowns. While sitting on stage, graduates listened to inspiring messages from Peerless Lake School Principal Connie Molcak, Northland School Division Associate Superintendent Area 1 Shelley Willier, Peerless Lake Local School Board Committee Chair Louis Cardinal, Peerless Lake Trout First Nation Chief James Alook and Municipal District of Opportunity Councillor Louis Okemow. 
Students also received graduation gifts from the school, Northland School Division, Peerless Trout First Nation and Municpal District of Opportunity. The evening concluded with a steak/turkey dinner and a dance. Congratulations to Shaley Houle, Serenity Cardinal, Joanelle Netowastanum, Danielle Cardinal, Kally Cardinal, Sheileen Ossimeemas, Braedon Noskiye, Erika Sinclair, Taylor Houle, Shavannah Anderson!
Peerless Lake School celebrate "Class of 2017" graduates