Minister of Education visits KTCEA - NSD Winter Camp
Posted on February 22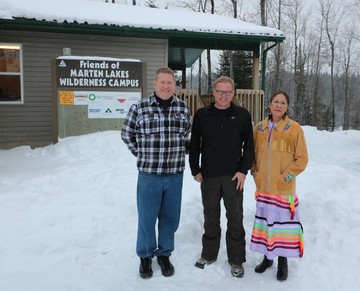 Minister of Education David Eggen recently witnessed land-based learning at its best on February 21, 2018. Eggen attended the Kee Tas Kee Now Tribal Council (KTCEA) - Northland School Division (NSD) Winter Camp at Marten Lakes Wilderness Camp - Northern Lakes College Campus. 
This camp is designed to expose to students to land-based learning (trapping, dog sledding, skinning, rattle making, setting a net, storytelling) with a focus on leadership, language, and culture. These experiences are organized to help students make connections to the curriculum set by Alberta Education.
Eggen started his visit by observing students learn step by step instructions about setting a trap from Cultural Advisor Herman Sutherland and Peerless Lake School Teacher Chelsea Cattroll. Once he developed a better understanding of trapping, Eggen joined students to learn about dog sledding/animal care. 
The visit transitioned to a presentation where Minister Eggen described land-based learning as the future of education while speaking to KTCEA/NSD staff and Chief and Council for Lubicon Lake Band, Woodland Cree First Nation, Loon River First Nation, Peerless Trout First Nation and Whitefish First Nation. He also congratulated KTCEA and NSD for maintaining a partnership that supports 21 Century Learning such as land-based learning. 
Minister of Education visits KTCEA - NSD Winter Camp