Board Meeting at Central Office June 22nd
Posted on June 22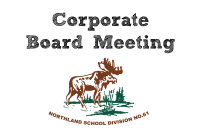 We are hosting our Corporate Board Meeting at central office today (Thursday June 22nd)! Before noon, the Dr. Mary Jackson School Band will be performing in front of central office staff and Local School Board Committee members. Here are some Action Items being brought to Board: 
Education Quarterly Report
Third Quarter Finance Report
2017-2018 Budget
2017-2018 Board Meeting Dates
By-law 136 - Form of Nomination: As per Section 28(2) of the Local Authorities Elections Act, for Northland to receive nominations for election purposes at an office other than the local jurisdiction office, the elected authority must pass a by-law before June 30th. 
By-law 137 - Modified Voting Procedure
Scholarships
Policy and Procedure Review
Click here to view the Board Agenda
The public is welcome to attend starting at 1:00 p.m at central office in Peace River. Click here for directions. If you're unable to join us in person, WATCH our LIVESTREAM!