Pink Shirt Day 2016
Posted on February 23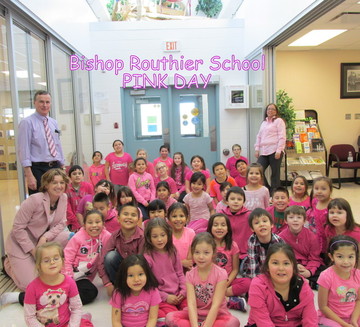 Bullying in any form, anywhere is unacceptable and we all have a role to play in making schools welcoming, caring, respectful and safe places for everyone.

Pink Shirt Day began in 2007 when two teens in Nova Scotia noticed a younger student in their school being bullied for wearing a pink shirt to class. To show their support, the students bought pink shirts and gave them to students and teachers at their high school to wear on the same day. Since then, Pink Shirt Day is celebrated internationally to promote bullying prevention and healthy relationships.

On February 24, show your spirit in creating a welcoming, caring, respectful and safe learning environment and promoting healthy relationships by:
wearing a pink shirt;
sharing a photo of yourself on social media using the hashtags #PinkShirtDay or #StandUp; and
participating in events in and around your school and community.
Click on the following links below for more information! 
https://education.alberta.ca/topic-search/?journeyId=1089&resetFilter=1&newsId=47755
Stay tuned for school photos!