NSD encourages community members to be a leader and become a school board trustee
Posted on September 13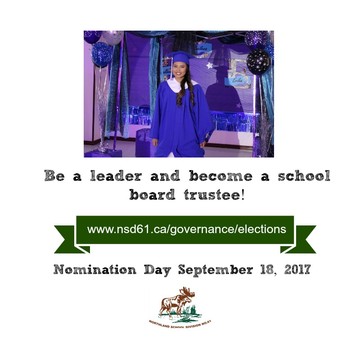 This is a year of great opportunity for parents and community members who want to help Northland School Division No.61 (NSD) move forward. With the new Northland School Division Act in place, an elected board of trustees in NSD will be reinstated during School Board Trustee Elections October 16, 2017. For the 2017 election, NSD is divided into 11 Wards with one trustee being elected in each ward.
"The reinstatement of an elected board is one-way parents and community members can participate in the division's education system," said Lois Byers, Official Trustee. "School board trustees bring the voice of the community to the table, make decisions in the best interest of all students and guide the division forward.  Participating in education is one of the most important things a community can do to ensure NSD students are strong in identity, healthy and successful."
NSD encourages eligible parents and community members to consider running for school board trustee. Nomination Day is Monday, September 18th. If you're interested in becoming a school board trustee please visit the NSD website for School Board Trustee Elections information http://nsd61.ca/governance/elections. The web page includes:
a handbook for potential candidates;
a Ward map;
qualifications for candidates;
Nomination Day information; and
Election Day information.
Potential candidates can also contact the NSD central office at 780-624-2060 or 1-800-362-1360 to speak to Returning Officer Trudy Rasmuson or Executive Secretary Melanie Mantai. Following Nomination Day, more information with respect to Election Day will be posted on the NSD website.
Click here to view the news release.