Candidate announcement update – School Board Trustee Elections 2017
Posted on September 20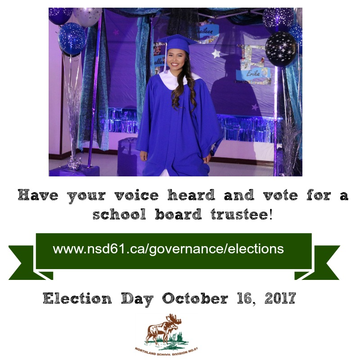 Northland School Division is pleased to announce official nomination results as of September 20, 2017. Seven elections have been declared and four trustee positions have been filled by acclamation. 
Ward 1 - Paddle Prairie Metis Settlement, Keg River (Election declared)
Joanne Ducharme
Candice Calliou
Maddy Daniels
Ward 2 - Susa Creek (Acclaimed)
Cathy Wanyandie
Ward 3 - Gift Lake Metis Settlement, Peavine Metis Settlement (Election declared)
Randy Anderson
Ken Shaw
Ward 4 - East Prairie Metis Settlement, Grouard (Election declared)
Frank Chalifoux "Manny"
Jesse Lamouche
Lana L'Hirondelle
Ward 5 - Peerless Lake, Trout Lake, Little Buffalo (Election declared)
Violet Cardinal
Louis Cardinal
Ward 6 - Desmarais, Sandy Lake (Acclaimed)
Silas Yellowknee
Ward 7 - Wabasca, Chipewyan Lake (Election declared)
Fay Cardinal
Robin Guild
Ward 8 - Calling Lake (Election declared)
Clifford Cardinal
Cora Weber-Pillwax
Loretta Gladue
Ward 9 - Fort Chipewyan (Acclaimed)
Rubi-Helen Shirley
Ward 10 - Anzac, Janvier, Conklin, Fort McKay (Acclaimed)
Jules Nokohoo
Ward 11 - Elizabeth Metis Settlement, Fishing Lake Metis Settlement (Election declared)
Karen Telford
Arlene Calliou
Click here to view media release. 
For more information please visit the Elections 2017 web page http://nsd61.ca/governance/elections.