Back to School information
Posted on August 21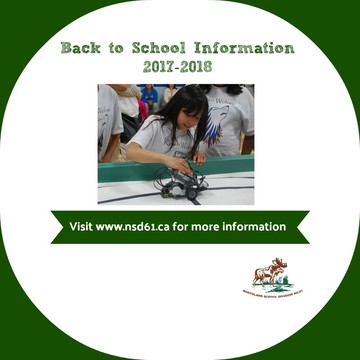 Tansi, Edlánat'e, Hello, 
It is our pleasure to welcome students, staff, parents and community members back for another school year at Northland School Division. Classes will resume for all schools starting September 5, 2017!
Please review the following information below. If you have any further questions please feel free to call central office at 780-624-2060 or 1-800-362-1360. 
Student Registration
Parents or Guardians are asked to accompany their child if new to an elementary or junior high school. New students will need to bring one of the following documents:
Birth Certificate
Residency Document
Canadian Citizenship Document
Passport
Northland School Division has revamped the registration forms for new students! A fillable registration form is available on the Northland School Division website http://nsd61.ca/download/106563. Parents who have returning students, please contact your local school if you haven't confirmed registration details. 
Kindergarten Students
Please note that start dates for kindergarten may vary from school to school. Parents are asked to contact their local schools.
School Bus Information
Please contact your local school for school bus times, pick-up and drop off locations and 
general information. Parents will need to provide a physical address (not a box number). 
Helpful start-up information for the 2017-2018 school year
2017-2018 School Year Calendar
School websites and contact information
Follow Northland School Division on Facebook
Important Dates
August 22 - 24, 2017: New Teacher Orientation - Mistassiniy Schoool, Wabasca-Desmarais
August 23-24, 2017: Administrators' Meeting - Mistassiniy School, Wabasca-Desmarais
August 28-31, 2017: Organizational Days
August 30, 2017: Regional Northland Day
September 5, 2017: 2017-2018 school year begins!