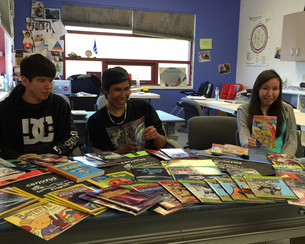 The purpose of the Summer Reading Program is to increase access to books for children in Northland communities over the summer and to help students avoid summer reading loss. A 2013 study published in Reading Today entitled "Eliminating Summer Reading Setback: How we can close the rich/poor achievement gap" (http://www.rcowen.com/PDFs/Allington.pdf) says that providing children with self-selected books for summer reading helped to reduce summer reading loss. 
21 Northland school communities including three schools from Kee Tas Kee Now Tribal Council are participating in the Summer Reading Program which is sponsored by Cenovus Energy. All participating schools receive approximately 250 books to be placed in their communities over the summer months.  
For more information about the Summer Reading Program, please contact Maureen Chernipeski at 780-891-2265 or maureen.chernipeski@nsd61.ca.